How often should you have collagen powder?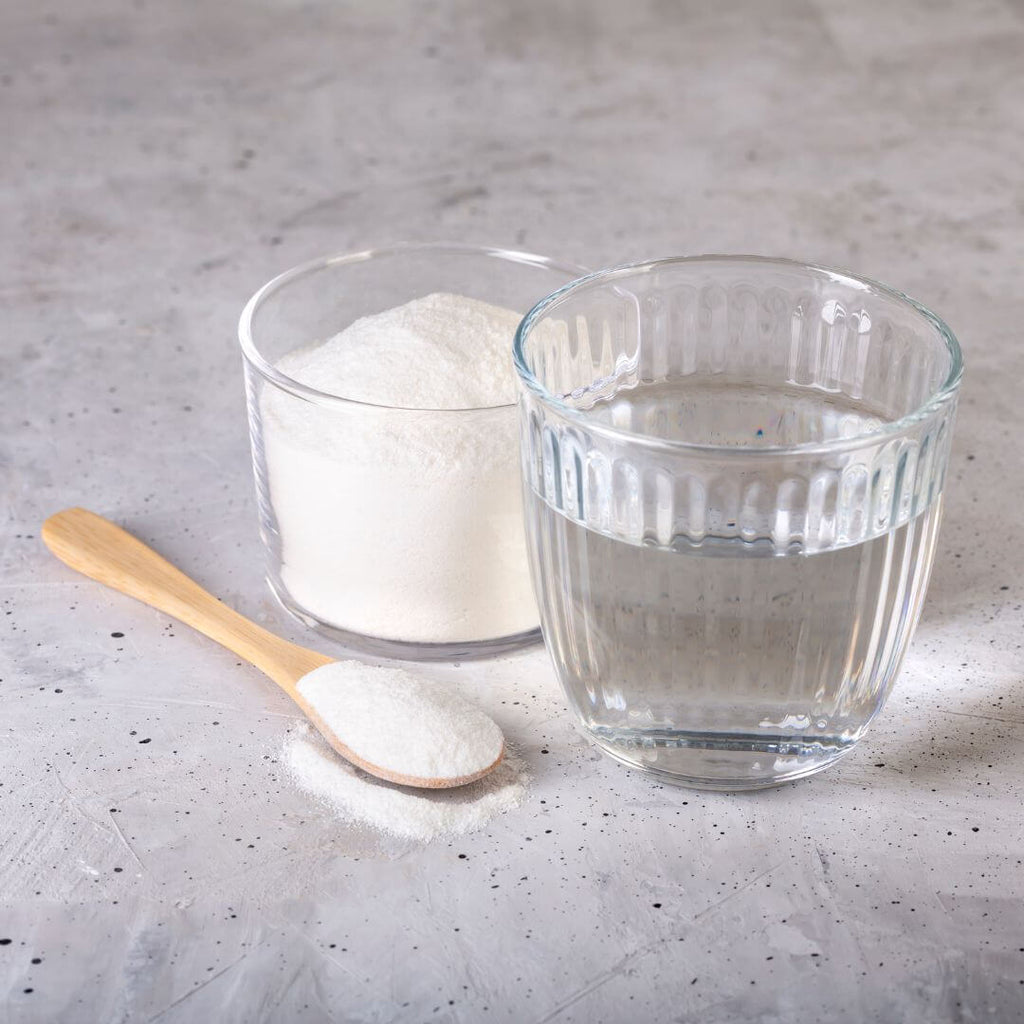 How often should you have collagen powder?
Collagen powder is recognised for its many health benefits. If you're looking to make the most of this tool, here's the daily recommended dosage and consumption options.
Collagen powder is an incredible tool used by athletes and everyday individuals alike. As collagen is the most abundant protein within our bodies, hydrolysed collagen supplements can provide numerous health benefits including skin health, joint pain, bone loss, muscle mass and heart health improvements.
If you're new to the world of collagen powder, it couldn't be easier to incorporate this supplement into your daily routine. Here's our easy guide to how often you should have collagen powder and how to take it.
The ideal daily serving
It's suggested that a daily serving of bovine collagen is between 10-20g and 5-10g for marine collagen, with the collagen content constituting at least 90% of the powder weight (as the rest of the weight is likely to be moisture found within the powder). 10g is approximately 1 tablespoon and 5g is one heaped teaspoon, making it easy to monitor your collagen intake as you prep your supplement.
People who are highly active or who engage in activities more likely to result in injuries may be recommended by their doctor to increase their daily collagen intakes, but it's advised that a higher serving is checked with a health professional.
As tablets and capsules are less effective in providing you with a sufficient dose of collagen, and are also more expensive per unit, collagen powder is a simple, price-effective alternative to increasing your daily intake.
How to take collagen powder
Bovine collagen and marine collagen are both available in economical powder forms. Collagen powder is one of the most versatile supplements there is, giving you multiple options in how you consume it daily. Some of these options include…
Water - perhaps the most straightforward way to consume collagen powder is by simply mixing it with water in a shaker bottle.
Coffees and lattes - want to get an extra boost of support alongside your caffeine hit? Collagen powder mixes easily into coffee, making this an easy way to slip a serving into your daily routine.
Bone broth - it's not uncommon for people to pair bone broth with collagen powder. As bone broth provides significant health benefits, consuming this pairing regularly can lead to noticeable enhancements in the strength and quality of your joints, alongside other benefits.
Smoothies - need to increase your fruit and vegetable intake? Kill two birds with one stone by adding collagen powder to a morning smoothie for a breakfast wake-me-up.
Eggs, oatmeal, pasta, and soup - collagen powder can also be incorporated into solid foods for easy consumption. Eggs, oatmeal, pastas, and soups are all great options for adding a few teaspoons of collagen powder.
No matter how you decide to incorporate collagen powder into your daily routine, it's important that you're using a powder that's of the highest quality. Nutraviva's collagen powders are made from 100% natural sources to create a premium collagen product. Find the tools you need for optimal daily health management with Nutraviva's range.