Introducing our new Simply Beautiful Beauty Collagen Range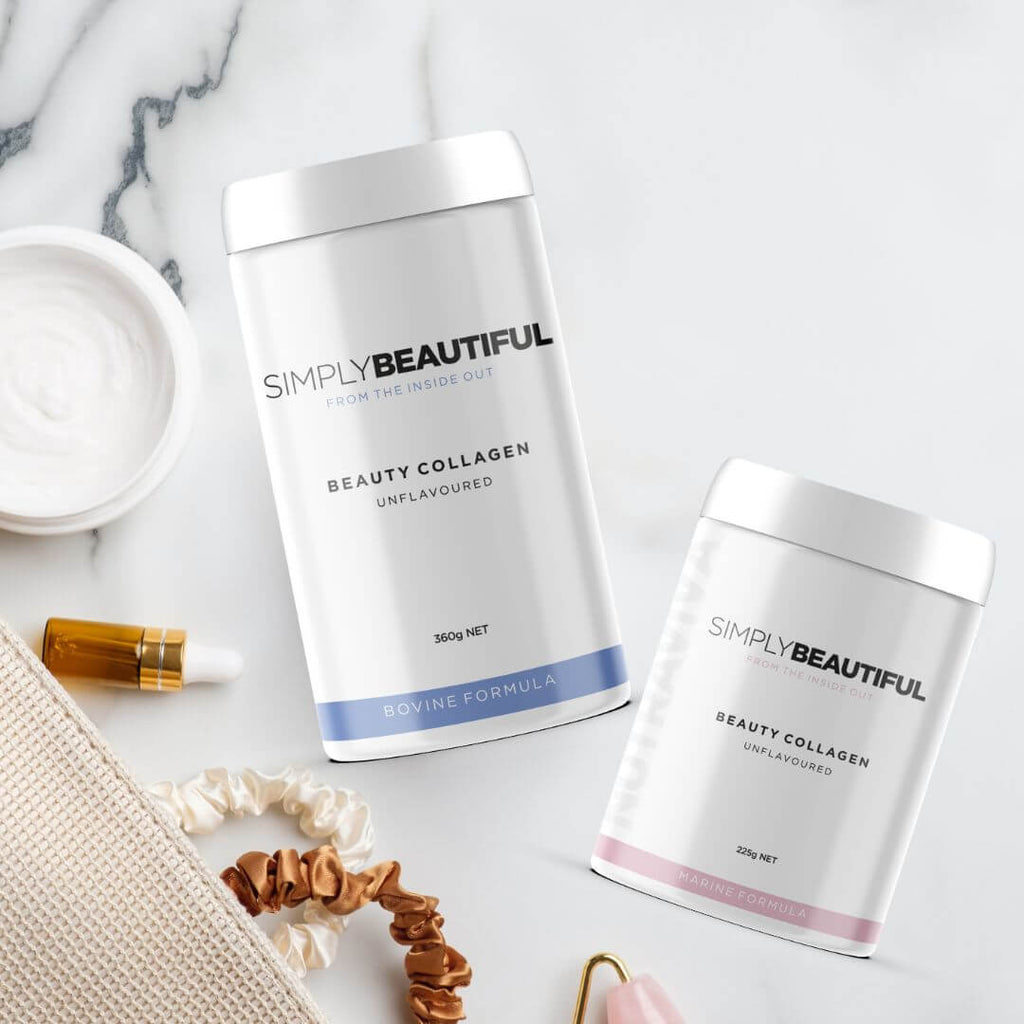 Introducing our new Simply Beautiful Beauty Collagen - A fresh new look & improved formulation. 
Nutraviva's Simply Beautiful Beauty Collagen Formula works from the inside out by combining bioactive collagen peptides with carefully selected vitamins, minerals, and antioxidants, all working together to promote optimal skin, hair, and nail health.
Why choose a beauty collagen formula?

Collagen supplementation is a great way to support the natural health of our skin, hair and nails. It also has beneficial options for our digestive balance, reducing inflammation in the body and supporting joint & bone health. If you are looking to provide the ultimate support for your skin, hair and nails then choosing a high quality beauty collagen formula is a great way to provide more support for beauty nutrition. 
Topical creams, masks and serums are all good options for moisturising and providing a barrier for environmental damage. But as we learn more about how to best support our skin, hair and nails, it is becoming clear that nutrition is the key, and that ingestible beauty collagen supplements contribute to natural collagen synthesis processes, improve hydration, and reduce fine lines - all from the inside out!
Nutraviva Simply Beautiful Beauty Collagen is specifically formulated to reinvigorate the production of collagen and provide essential nutrients required to maintain our skin, hair and nail's health & appearance. It consists of carefully selected vitamins, minerals, and antioxidants proven to be beneficial to overall health and beauty needs including;
Nutraviva's bioactive collagen peptides - highly bioavailable for optimal absorption, our collagen peptides contribute to natural skin elasticity, hydration and plumpness. Reduce the appearance of fine lines and support collagen synthesis at a cellular level. 
Vitamin A - Vital for firm, healthy skin. Boosts skin cell growth for a glowing complexion. Potent antioxidant that fights free radicals.
Vitamin C - Neutralises free radicals, aids skin regeneration, repairs cells, reduces wrinkles, evens skin tone, and protects against dark spots and hyperpigmentation. Boosts the production of collagen and elastin.
Vitamin E - Protects skin from sun and pollution damage. Anti-inflammatory with soothing effects on the skin.
Zinc - Assists in the development of strong, healthy nails, and shiny hair. It has anti-inflammatory properties and is crucial for many enzymes to function.
Silica - Plays an essential role in the formation and synthesis of collagen within the cells. Silica is an important mineral that supports optimal connective tissue for healthy hair, skin, nails, bones, and joints.
Hyaluronic acid - Helps skin look more supple by increasing skin moisture. It makes skin softer, smoother, more hydrated, and glowing.

When combined with a healthy, varied diet, Simply Beautiful's powerful all natural formula works wonders to promote optimal skin, hair, and nail health. Plus it can be easily incorporated into your daily routine, by simply adding to your favourite beverage and meals. Try adding it to your smoothies, coffee, and high protein snack recipes. 


So, what is the difference between our original and new formulations?
Firstly, the most obvious change it certainly our new packaging look. We took on board the feedback of our valued customers and stockists, invested countless hours in research and development, and worked with an amazing design team to come up with a beautiful new look for our beauty collagen range. We think it is fresh and refined, and we hope you like it too!
Secondly, we evaluated our original formula and developed a new formulation with an increased percentage of our bioactive collagen peptides per serve, whilst incorporating a considered blend of essential vitamins, nutrients & antioxidants to support beauty needs. 
Thirdly, we have changed from a 40 serve tub to a 30 serve tub, as well as provided both marine and bovine collagen options. This change has allowed us to provide more choice, as well as reduce the amount of unnecessary packaging for our range. 
What about flavours?
Currently we have launched unflavoured options, which are really versatile to use. We are currently working with a flavour developer to provide some delicious flavour options that are all natural, so watch this space ...
Find our more about our new Simply Beautiful Beauty Collagen on our Simply Beautiful Collection page. 
Try for yourself today and notice the difference!
Disclaimer: This blog post is for informational purposes only and does not constitute medical advice. Consult with a healthcare professional before making any changes to your skincare routine or starting any new dietary supplements.