Learn More About Australia's Top Quality Beef Gelatin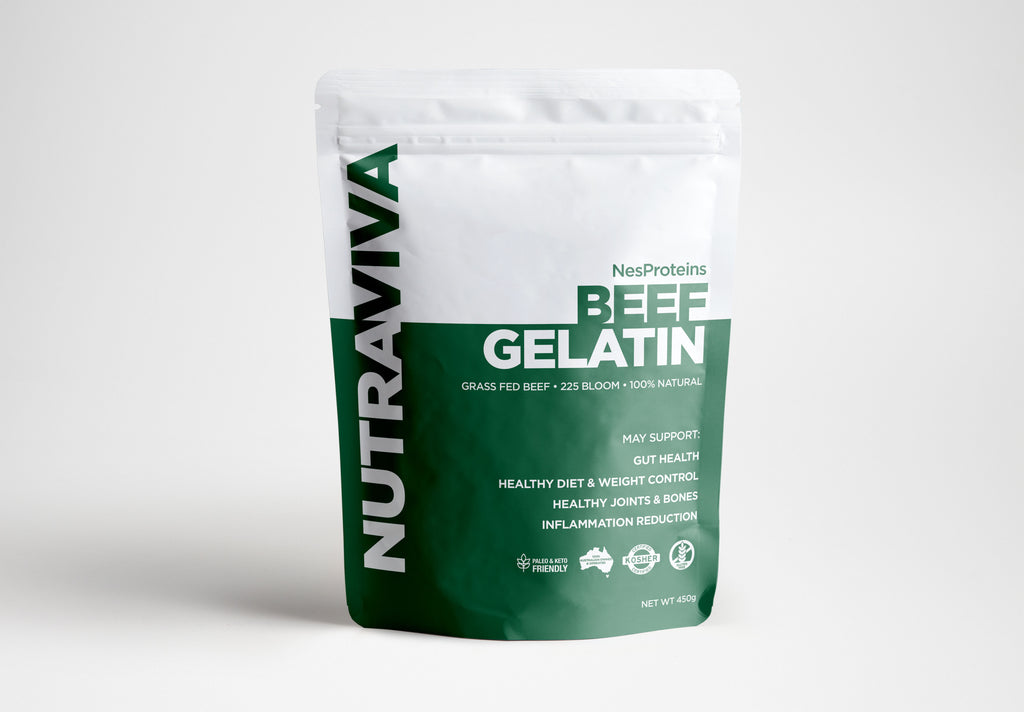 Australian Gelatin Supplements
If you're looking to buy the highest quality beef gelatin powder in Australia, Nutraviva has you covered. Our Nutraviva range includes a range of Australian owned gelatin supplements that are 100% natural and pure. A pure protein source will provide the essential amino acids necessary for tissue building and will repair cells within the body, creating wellness from the inside out.  
Why consume gelatin? 
Gelatin supplements have been used by families for generations to make all kinds of delicious treats like jellies and desserts. A classic Australian jelly recipe is Trifle.
What we might not realise is just how good naturally sourced gelatin supplements are. When consumed as part of a healthful and balanced diet, gelatin provides the essential amino acids required for tissue building and the repair of damaged cells. Gelatin can improve gut health and also help suppress hunger cravings 
How Is Gelatin Good For You?
As a natural source of protein, Nutraviva's Gelatin is superior because it is made from 100% grass-fed and grass-finished cattle. Most other gelatin predominantly is combined and mixed with material from grain-fed and grass-fed animals, Nutraviva is grass fed and finished ensuring that cattle stays on pasture as long as possible.
Nutraviva gelatin contains a unique amino acid profile that consists of 20% glycine, 10% glutamine, 12% proline and 12% hydroxyproline which are the building blocks necessary to restore and regenerate collagen inside the body.
How Is Gelatin Made?
Our gelatin comes from pasture-raised, grass-fed and grass-finished cows. Type I and III collagen proteins are predominantly sourced from gelatin manufacture, going through a natural extraction process to create an odourless, colourless and flavourless gelatin powder.
How To Use Gelatin: 
There are many different ways you can use our beef gelatin powder to give your body gets more protein. 
It can be used in: 
Both hot and cold beverages 

Making fruit or jelly snacks enriched with vitamins

Use it to thicken your sauces, soups, gravies, stews and other liquid-based foods 

It's great to use as a binder in your baking 

It can even be used to make soothing shower jelly soaps and face masks
If you're planning to use gelatin in your drinks, place one teaspoon of gelatin in glass and stir in around 75ml of cold water and mix to let the gelatin bloom. Heat it in a microwave for 20 seconds to dissolve gelatin and add 75ml of your favourite cold beverage. The mixture should be drunk immediately. Keep the drink at room temperature to avoid it developing lumps. 
'Bloom' by adding 2 scoops (¼ cup) of gelatin to ½ cup of water (1:2 ratio).

Add bloomed gelatin to 200 ml of any hot liquid with your flavouring.

Stir until dissolved and refrigerate to make a set jelly (2 hrs).
NOTE: add half the gelatin if making a 'soft set' dessert like panna cotta. 
MAKES: 10 litres of set liquid.
Ingredients: 100% Grass Fed Bovine Gelatin.
Proudly packed in Australia from 100% owned and operated Australian Company.
Get in Touch with Nutraviva to Learn About the Benefits of Buying Beef Gelatin Powder 
If you're keen to buy our beef gelatin powder, order online from Nutraviva today. We ship our products Australia-wide. We also have other products like bone broth and collagen if you're looking to diversify your health supplement intake. 
Written by Bruno Rossitt, Founding CEO Nutraviva, BEd(PhysEd)