Australia's Best Bone Broth Powders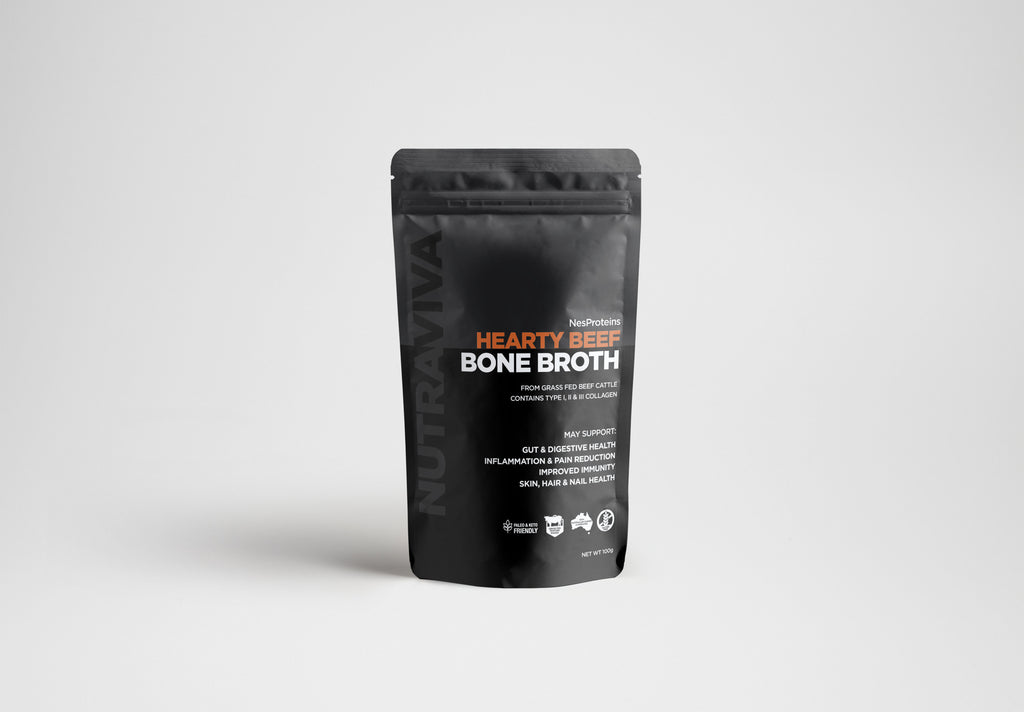 Australia's Best Bone Broth Powders
Bone broth is a fairly popular consumption choice as bones contain a range of minerals as well as 17 different kinds of amino acids, usually found in the broth as proteins like collagen and gelatin. 
Bone broth is usually made with bones boiled with added herbs, vegetables, and spices for extra taste and nutritional value. It's been seen to be a delicacy for centuries. Bone broth was commonly used to support gut and digestive health and to strengthen kidneys. 
At Nutraviva, we try to encapsulate all this nutritional goodness in our high-quality bone broth protein powder, so even those on the move have time to enjoy this delicacy.
Bone broths are extraordinarily rich in protein and are a great source of minerals as well. Glycine, which is naturally found in bone broth, will support the bodies detoxification process and is used in the synthesis of hemoglobin, bile salts and other naturally-occurring chemicals found within the body.  Glycine also supports digestion and the secretion of gastric acids. Bone broths are also rich in gelatin which supports skin health, reduces cravings and also support digestive health which is why it plays a critical role in the GAPS diet.
Bone Broth is rich in essential amino acids which help to reduce inflamed joints, skin allergies, and boost the immune system. Bone Broth also has anti-ageing and weight loss benefits due to the combination of important amino acids and minerals, (magnesium, potassium, calcium).
How Its Made
Selected grass-fed bones are added to filtered water, with a splash of apple cider vinegar, to help change the pH to extract maximum nutrients from the bones. Nutraviva unique gentle simmering and drying technology takes all the hard work out for you so you can conveniently enjoy the essential daily nutrients to keep your body functioning. Our Broths are rich in glycine, gelatin, proline, chondroitin sulphate and hyaluronic acid.
A serve of Nutraviva Bone Broth gives your body the daily dietary intake your body needs for staying healthy.  
(We don't recommend Bone Broth pastes as they contain 12% or more salt!  Which can contribute to heart problems.)
Your Top Choice When Buying Bone Broth Collagen Powder
Here at Nutraviva, we want to ensure that the bones used are 100% grass-fed and that the animals are treated ethically and humanely Want excellent quality bone broth that simply tastes amazing? We understand how beneficial this powder can be, which is why we aim to provide those in Australia with nothing but the best supply of our bone broth protein powder. 
Written by Bruno Rossitt, Founding CEO Nutraviva, BEd(PhysEd)