Collagen Fruit Tart with Lemon Curd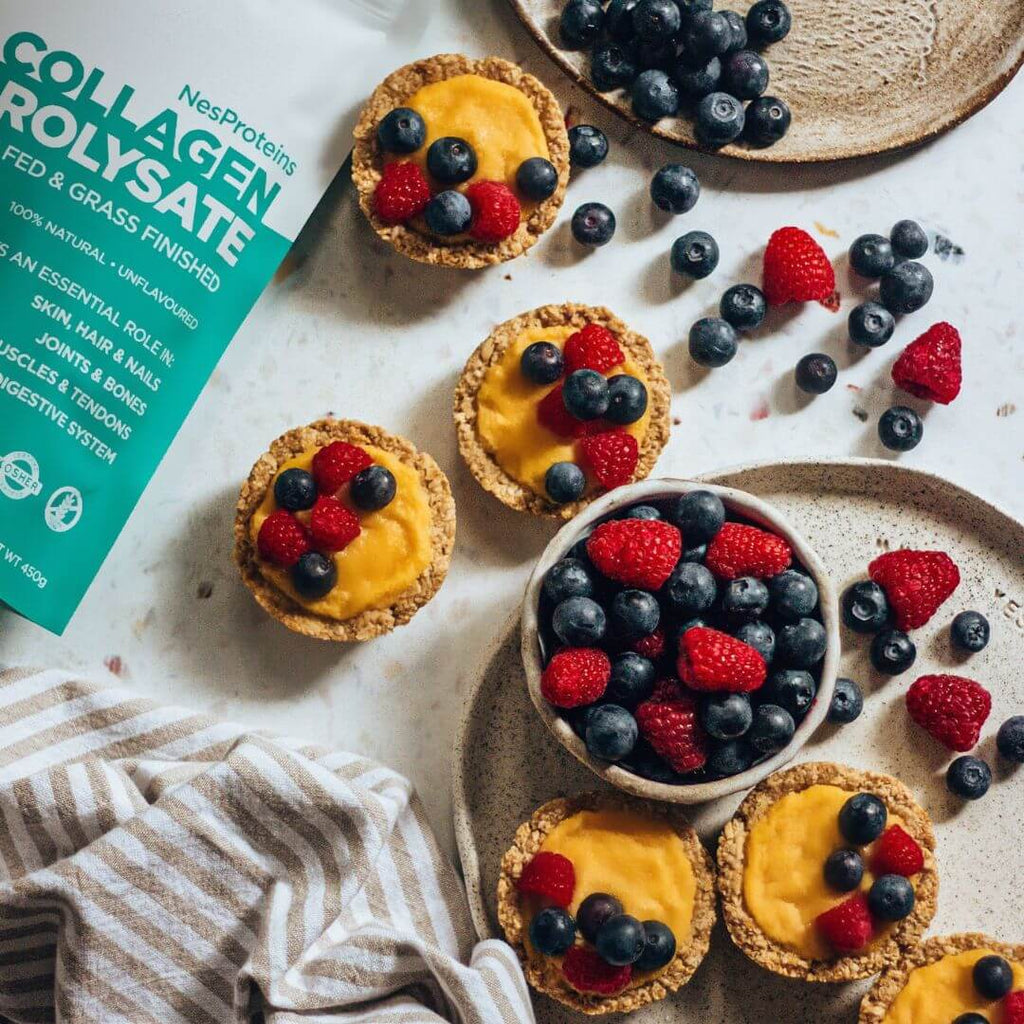 Collagen Fruit Tart with Lemon Curd
Looking for a special celebration dessert that leans a bit more towards the healthy side of the scales? This recipe incorporates zesty lemon sweetness, fresh fruit, natural flavours and protein rich collagen powder. 
6 servings
Ingredients
For tart crust
2 cups oats (for a gluten-free option replace with almond meal)
2 tablespoons Nutraviva Collagen Hydrolysate
1/2 cup coconut oil
1/4 cup maple syrup
1 tablespoon arrowroot starch
1-4 tablespoons cold water, as needed
For lemon curd
4 egg yolks
3/4 cup natural sweetener, eg Stevia (reduce amount for less sweetness)
1/4 cup unsalted butter
2 lemons, zested & juiced
For fruit topping
1/4-1/2 cup fresh blueberries
1/4-1/2 cup fresh raspberries, quartered
Directions
Add the oats to a food processor & pulse a few times to coarsely grind the oats.
Add the Nutraviva Collagen Hydrolysate, coconut oil, maple syrup & arrowroot starch to the food processor. Pulse until the dough comes together. If the mixture is too dry & crumbly, add cold water one tablespoon at a time until the dough forms.
Grease 6 mini tart molds with coconut oil. Silicone molds are a great option. Divide the tart dough evenly amongst the molds, pressing the dough into an even layer. Alternatively, press the dough into a pie tin. Place molds in the refrigerator for 30 minutes.
Preheat the oven to 190 degrees.
After the dough has chilled for 30 minutes, place in the preheated oven & bake for 10-15 minutes, until the crust turns golden brown. Remove from the oven & set aside to cool immediately.
While the crust is cooling, prepare the lemon curd filling by combining the egg yolks, sugar, lemon juice & zest in saucepan. Whisk well to combine. Heat the mixture over medium heat for 5-7 minutes, stirring constantly with a wooden spoon, until mixture turns cloudy & starts to thicken. At this stage, you should be able to draw a line on the back of the wooden spoon with your finger & have it hold for at least 4-5 seconds.
Remove the mixture from the heat & mix in the butter until well combined. Pour the mixture through a strainer to remove the zest. Press out any excess mixture through the strainer. Transfer the mixture to a bowl & cover with plastic wrap, pressing the plastic wrap against the lemon curd to prevent a film from developing. Refrigerate for 30 minutes.
To assemble the fruit tarts, divide the lemon curd evenly between the crusts. Smooth out the mixture with a spoon. Then divide the fresh berries equally between the tarts, placing on top. Serve immediately or refrigerate overnight & serve chilled.
Enjoy your tasty & zesty collagen treat!