Creamy Coconut Chia & Acai Berry Smoothie Bowl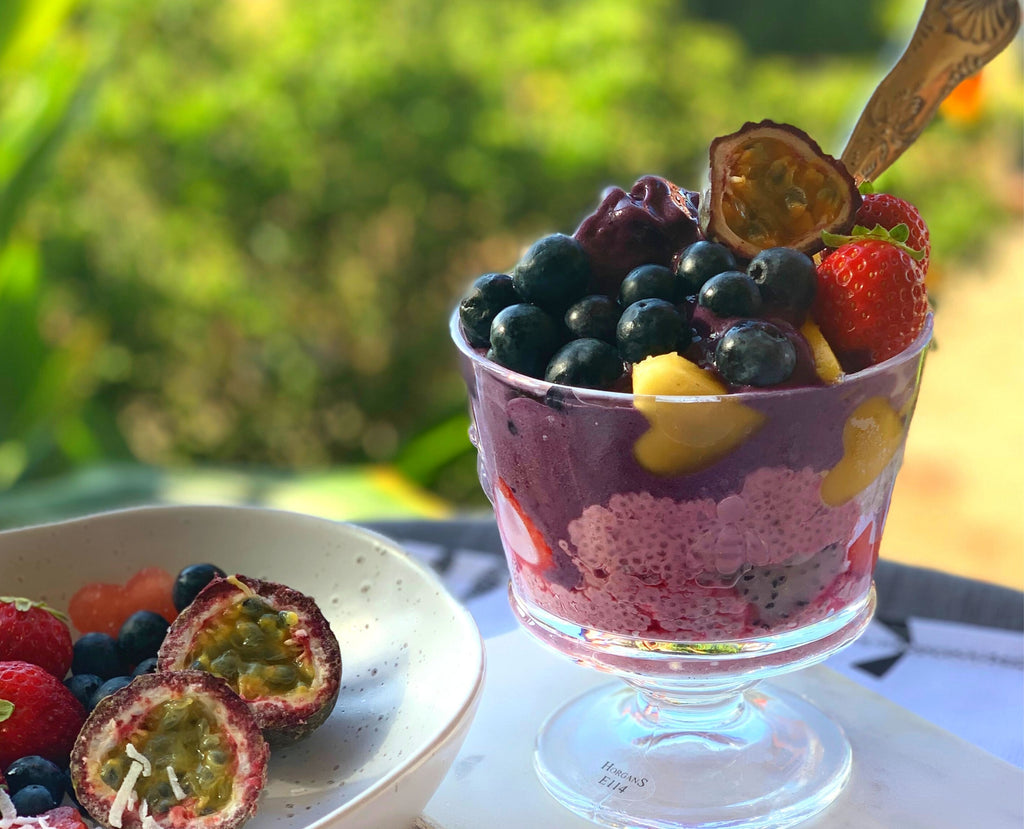 Creamy Coconut Chia & Acai Berry Smoothie Bowl
This nutritious breakfast is both healthy and super delicious!
The latest in healthy breakfast trends is combining smoothie 'nice cream', chia pudding and seasonal fruits into an easy but decadent bowl of goodness. By adding your favourite Nutraviva collagen powder you are supercharging your breakfast's nutrient density, supporting your gut health and enhancing your body's collagen production.
This recipe has two stages, the first being the creamy coconut chia mixture and second the delicious smoothie 'nice-cream'.
This recipe will make 4 generous serves.
Cut up some seasonal fruits to top your bowl, with other options including adding granola, coconut flakes , coconut yoghurt or a nut butter depending on your taste and dietary needs.
Chia Pot Mixture
Ingredients
Method
Mix ingredients together well in a bowl, cover and leave overnight in the refrigerator to set. It's that easy!
Optional – the next day take out half of the mixture into another bowl and mix with a dehydrated berry powder. These are available at many health food stores now and add a bit of wow factor but are entirely optional. Blue spirulina or butterfly powder can add a bit of extra drama turning your chia blue or purple.
Set aside chia mixture and make smoothie 'nice cream'.
Berry Smoothie 'Nice-cream'
Ingredients
Note – frozen fruits works best to get the 'nice-cream' result. It is also a great way to keep seasonal fruits handy and convenient for smoothie making. Fresh fruit will not get the same results.
Method
Mix all ingredients together in a high-speed blender until it comes together into a smoothie 'nice-cream', similar in consistency to ice cream. You may need to pause the blender halfway to scrape away mixture from sides of blender to assist with mixing process.
Then, bring it all together!
In a bowl or a mason jar begin by layering your mixtures.
Start with the chia mixture in layers on the bottom whilst adding fruit, including to the sides so the fruit can be visible. Alternate between the white and coloured chia for maximum impact.
When approximately ½ full add your smoothie 'nice-cream' mixture and top with seasonal fruits. And viola!
Check out our social media community on our Instagram and Facebook pages. Tag us in your stories and feed, we also love seeing your awesome recipes and creations!
Find more of our delicious recipes here.
Check out our Nutraviva collagen product range here.
Written by Liz Golsby, Digital Marketing Manager, Nutraviva Ba MTeach DipHSc.