Healthy Chocolate & Collagen Fruit Dip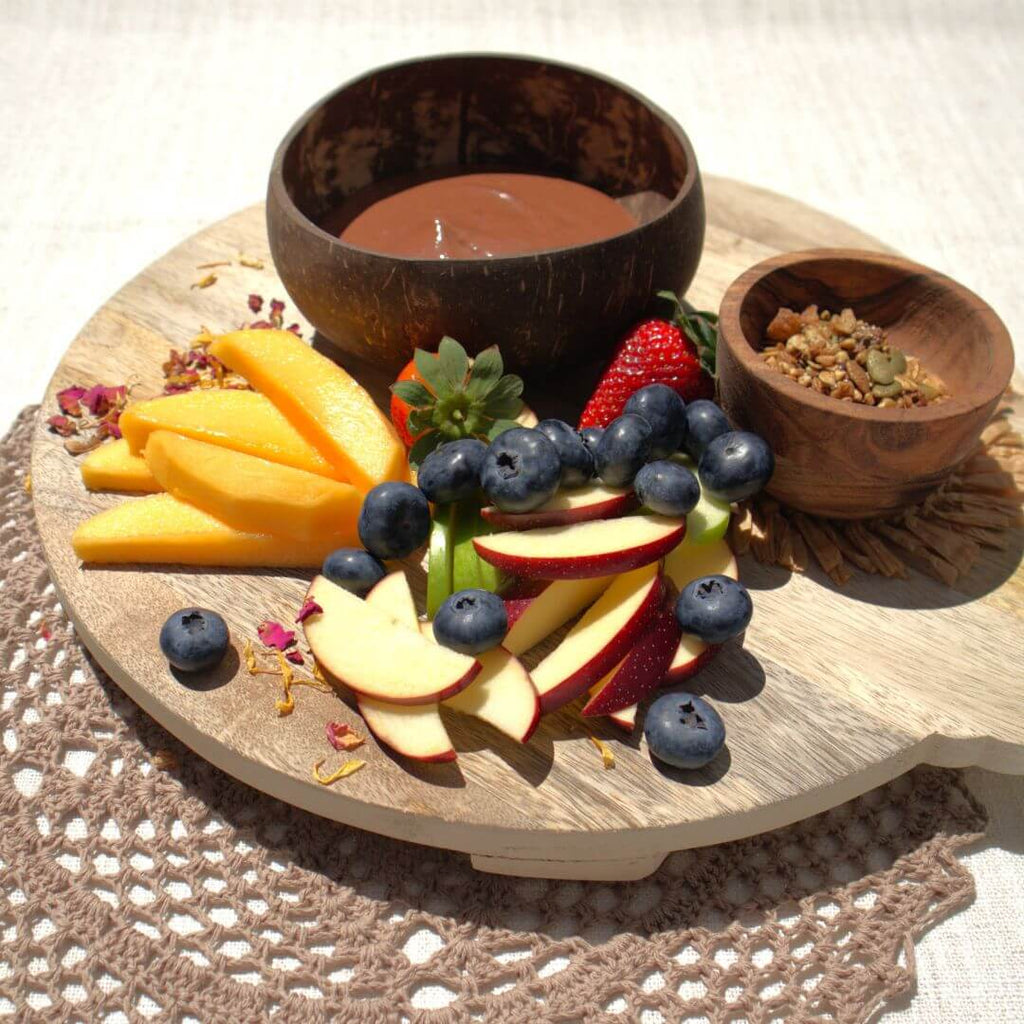 Healthy Chocolate & Collagen Fruit Dip

This protein-rich nutrient-dense snack is the perfect healthy dip for your favourite fruits. It combines deliciously healthy and flavoursome ingredients including high-protein Greek yoghurt, flavonoid-packed cacao powder, heart-healthy fats, bioavailable collagen peptides, and maple syrup as a natural sweetener.
The addition of Nutraviva collagen powder enriches the protein content of this snack making it a perfect satiating afternoon snack for reducing high-sugar afternoon cravings or for the perfect fruit platter and dip combo.
Preparation time – 10 minutes
Makes 2 generous serves perfect to share with friends and family. 
Ingredients
3/4 cup natural unflavoured Greek yogurt
2 tbsp smooth almond butter, this may be substituted for ½ an avocado
1/8 cup raw cacao powder
2 serves of Nutraviva collagen powder
2 tbsp pure maple syrup, this may be substituted for natural honey or omitted.
Fruit of choice
Optional dip toppings – granola, cacao nibs, honey drizzle
Method:
Add all ingredients to a medium mixing bowl.
Being mindful to start slowly at first to reduce powder making a mess of your bench, use a hand mixer or whisk to mix ingredients until well combined and of a 'fluffy' texture.
Choose your favourite fruits to dip into the mixture. The best 'dippable' fruits are the ones that can be scooped easily using your hands for example sliced apples and pears, whole strawberries, banana, and sliced pineapple. If choosing smaller fruit toothpicks can assist with serving.
This recipe is best made close to serving but may be made up to an hour in advance.
Enjoy!
Did you know? Greek yogurt is protein rich and an excellent source of calcium, which supports bone health. It also contains probiotics which have beneficial properties for gut health. Its thick consistency adds to the perfect 'dippable' consistency of this recipe. Nut butter or avocado provides a healthy source of Omega 3 fatty acids and micronutrients. Cacao powder is a great source of antioxidants, iron, magnesium, and calcium. Maple syrup is a natural sweetener and a source of antioxidants, it is important to choose 100% natural maple syrup as many maple syrup mixtures have added sugar and preservatives. It also has a lower calorie count than refined sugar and imparts a delicious flavour to the dip.
Take a look at our Instagram and Facebook pages. Tag us in your stories and feed, we love seeing your awesome recipes and creations!
Check out our premium collagen powder product range here