How to make bone broth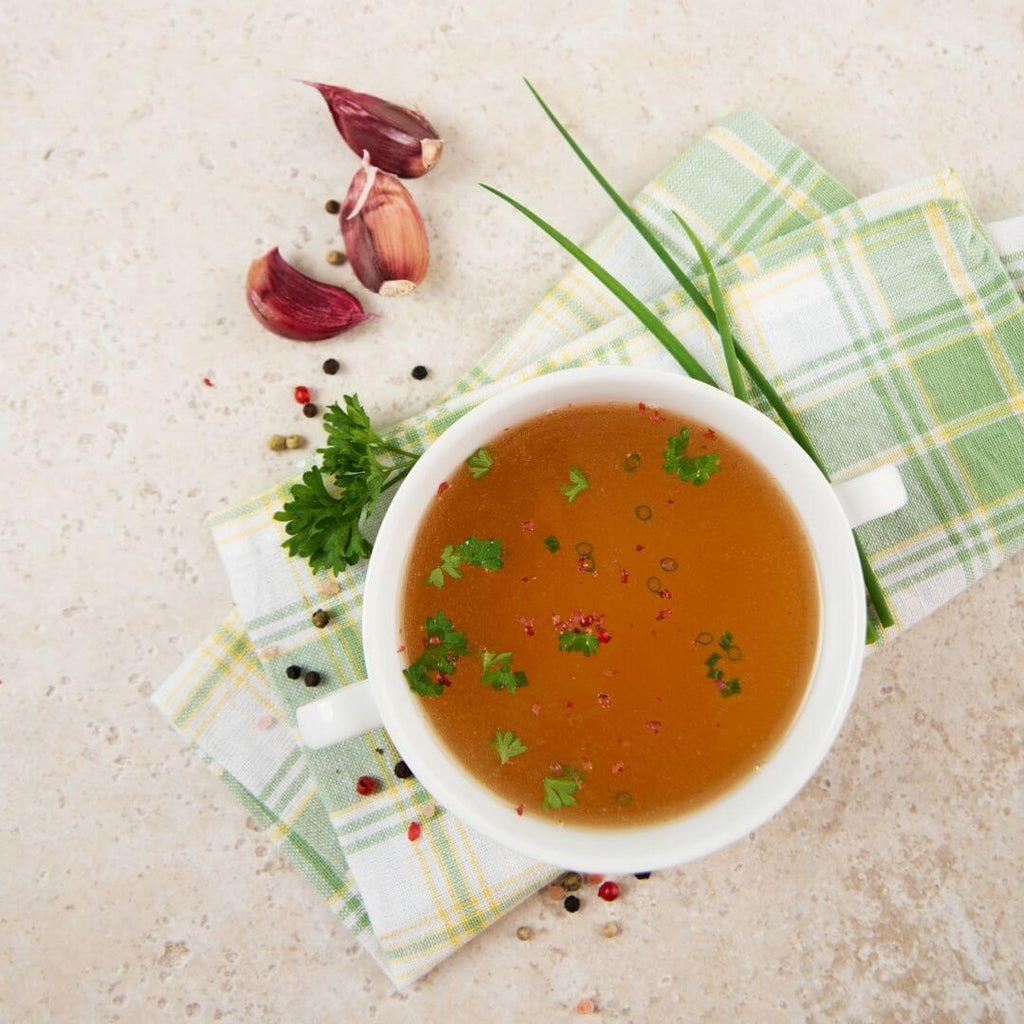 How to make bone broth
(slow-cooker version)
A warming nutrient dense bone broth is the perfect go-to health boost during the cooler months. It is a naturally rich source of collagen, vitamins and minerals making bone broth ideal for gut health and healing. Homemade bone broth can take quite a long time to make due to the required long simmering time used for maximum nutrient and collagen extraction, but using a slow cooker makes the process easier to manage as the slow cooker does the hard work for you. This recipe can be adapted to make either a beef bone broth or chicken bone broth. It is also easy to play around with the flavour profile to suit your needs and taste, such adding mushrooms to the broth to make a mushroom bone broth.
Preparation time: 45 minutes. Cook time at least 24 hours.
Ingredients
Note: For beef bone broth choose a mix of grass-fed marrow, knuckle, and long bones. For chicken bone broth choose free range carcasses with the cartilage left on the bone. Try to remove as much meat as you can from the bones this will reduce impurities that will need to be removed later in the slow cooking process.
At least 3 litres of filtered water (plus extra to top up during slow cook)
2 tablespoons of apple cider vinegar (preferably choose a variety that still has the 'mother included)
Optional: Add vegetables and herbs to enhance the natural flavour of the broth. Try adding the following:
2 carrots cut into quarters
2 stalks of celery
1 brown onion cut into half
4 garlic cloves
1 bay leaf
Half a dozen sprigs of thyme
Method:
Preheat oven to 160°C. Prepare the bones and arrange on a roasting tray. Roast for 30 minutes. Roasting the bones will give the broth a richer flavour profile.
Once roasted carefully add the bones to a 6L slow cooker. Add vegetables and herbs if using. Add enough water to cover the bones and cook for at least 24 hours. Add more water when required to keep the bones covered.
About every two hours, using a slotted spoon, remove from the top of the broth any impurities that form. These can be visible as a creamy coloured froth.
Once cooking period has finished strain the broth into a large bowl and allow it to cool.
If you choose to you can discard the hard layer of fat that forms on top of the broth. However, the fat can remain with the broth if you prefer as it helps to preserve the broth whilst in the fridge.
The broth can be kept in the fridge for a week, and in the freezer for up to 6 months. The bone broth can be consumed as a stand-alone broth or provide a base for casseroles, slow cooks, and soups.
Still too long and drawn out a cooking process?
At Nutraviva we have done the cooking for you. Our Beef Bone Broth comes in a convenient, nutrient rich powdered form making it highly versatile, convenient, and comes in four delicious flavours.
Nutraviva Bone Broth is a premium dehydrated bone broth powder. We use a proprietary slow simmering process to extract natural flavour, amino acids, collagen, chondroitin sulphate, hyaluronic acid, magnesium and other minerals from bones of 100% Australian and New Zealand grass-fed and pasture raised animals.
Nutraviva Bone Broth is put through a low-temperature freeze-drying process to lock in flavours and maintain the rich golden natural colour expected of high-quality bone broth.
Check out and follow our  Instagram,  Facebook and Pinterest for more! We love seeing your delicious creations and foodie feed, so tag us in your social media stories and posts!
Find more of our delicious recipes here.
Find out more about our Beef Bone Broth range here