Mexican Bone Broth Burrito Bowl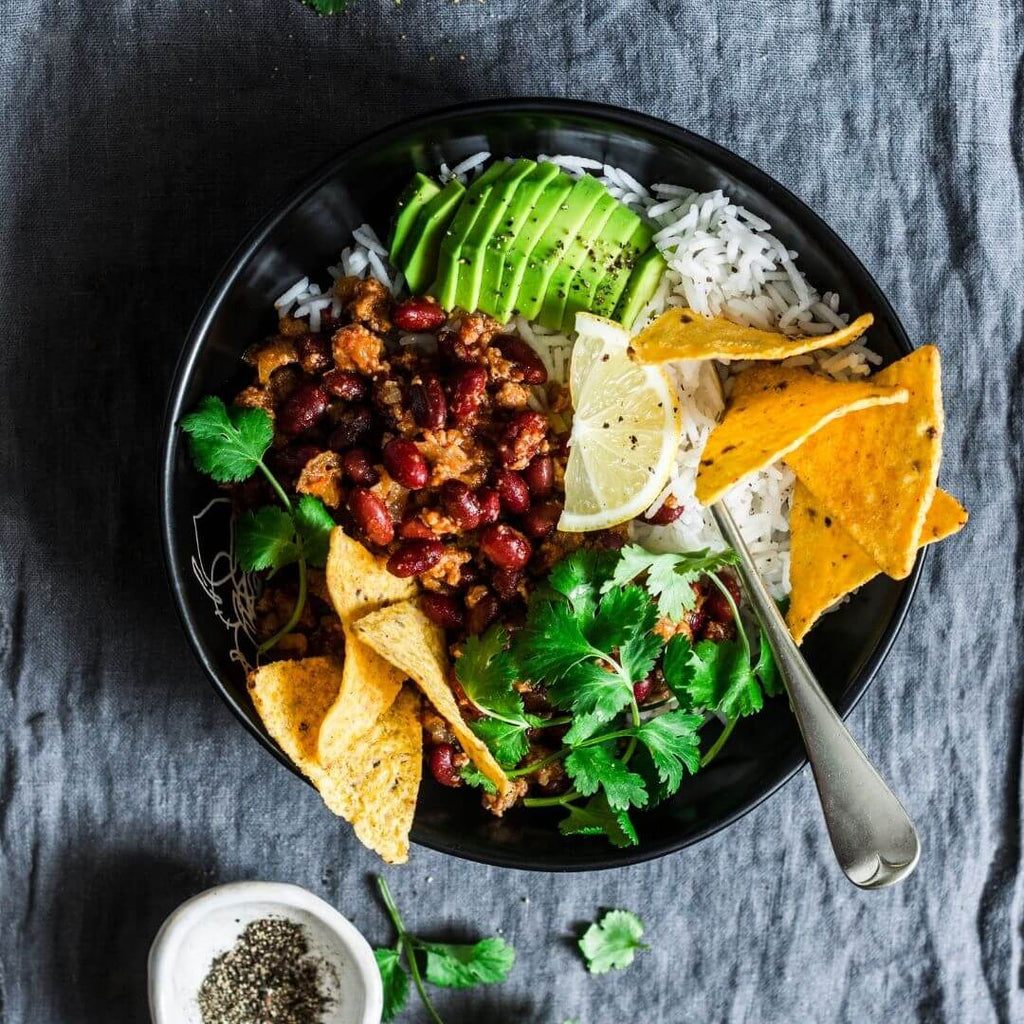 Mexican Bone Broth Burrito Bowl
Burritos are a family favourite and are so easy to put together on busy weeknights.
Simply add just 1 heaped tablespoon of your favourite Nutraviva Bone Broth into the meat & bean mix to add a super nutritious boost to this healthy dinner recipe.
Ingredients
1 ½ cups of basmati rice
1 avocado
1 sachet of chipotle spice blend, or make your own 'secret spice' blend
250g tub of sour cream
2 cloves of garlic
2 tomatoes
2 corn cobs
1 sachet tomato paste
1 Tbsp of Nutraviva Beef Bone Broth powder
Additional toppings to taste and preference – cheese, coriander, corn chips.
Method
Add 3 cups water into a saucepan and bring to the boil. Add the rice and stir. Reduce the heat to low and cover with lid for approximately 10 minutes or until rice is cooked. Allow rice to rest in pan off the heat to allow water to be absorbed.
While rice is cooking, cut corn kernels off the cob and dice the avocado and tomato.
Heat a medium sized frying pan over a medium to high heat, drizzle with oil, and add your beef mince (or meat/vegan alternative) and cook until browned.
Add crushed garlic, beef bone broth powder, and a pinch of chipotle spice blend to the mince. Cook for 1-2 minutes and then add the tomato paste and ½ cup water and allow to simmer until slightly thickened. Remove from the heat.
Now it is the building time! Divide the rice between bowls and top it with your mince mix. Then depending on your preferences, add your favourite toppings such as corn kernels, avocado, fresh tomato, coriander, cheese and a dollop of sour cream. Enjoy!
Check out our social media community on our Instagram and Facebook pages. Tag us in your stories and feed, we love seeing your awesome recipes and creations!
Check out our premium collagen powder product range here.
Written by Hannah Cross, Content Collaborator, Nutraviva