Mini Pecan & Berry Collagen Raw Cheesecakes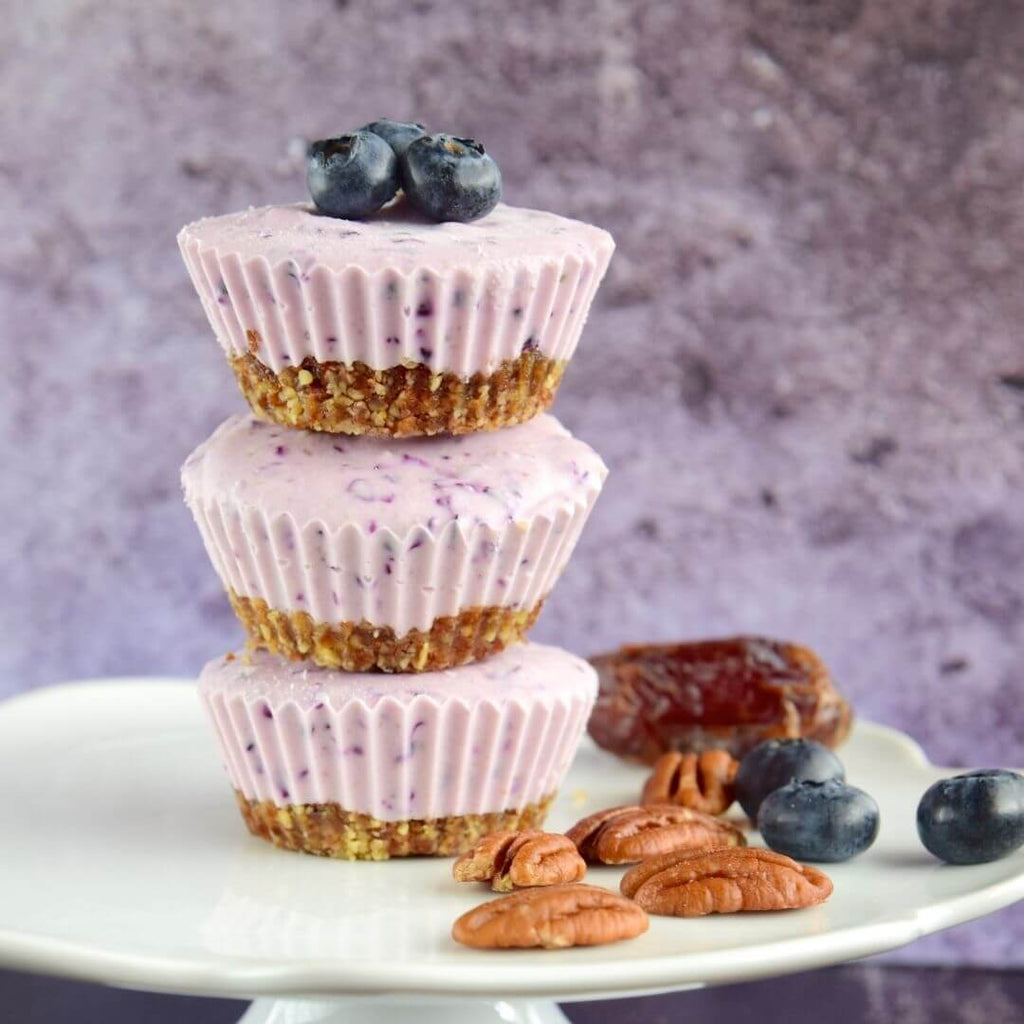 Mini Pecan & Berry Collagen Raw Cheesecakes
This 'cheesecake' is not actually made using cheese at all and needs no cooking as it is a raw cake full of healthy goodness. This recipe is also very easily adapted to vegan or vegetarian by the substitution of Marine Collagen Hydrolysate for Vegan Collagen Alternative and gelatin for agar agar. This recipe makes 6 serves, using a muffin tin as a mould for the raw cakes.
Ingredients
1 cup raw cashew nuts, soaked overnight
1 cup of pecan nuts
¼ cup coconut cream, or yoghurt
3tbsp maple syrup (or natural sweetener of choice)
1tsp vanilla extract
1tsp Nutraviva Gelatin
100ml of water to bloom gelatin
Coconut milk 
¼ cup fresh mixed berries
1 tbsp. of MCT coconut oil
Coconut oil (to grease pan)
Optional – add 1 tbsp. of dehydrated berry powder to the made cashew filling to add a different colour layer on top.
Method:
Soak cashews overnight to allow them to soften.
Lightly grease muffin pan with coconut oil.
Create pecan nut base by adding pecans, 1 tbsp of maple syrup and 1 tbsp coconut oil and mixing well together in a food processor.
Use mix to create a base in the bottom of the tin moulds. Chill for at least 10 minutes.
Bloom gelatin by adding 100ml of water and stirring, let it sit for one minute and then heat in the microwave for 30 seconds to allow it to dissolve, do not let it boil.
Add soaked cashews, coconut cream, 2 tbsp of maple syrup, vanilla, bloomed and dissolved gelatin, marine collagen, coconut milk and fresh berries into a blender and blend until smooth. 
Pour in moulds and set in freezer for minimum of 1-2 hours until set.
Thaw room temp for 10 minutes before servings.
Add toppings such as fruit, crushed nuts or dried edible flowers. Enjoy!
Check out our social media community on our Instagram and Facebook pages. Tag us in your stories and feed, we love seeing your awesome recipes and creations!
Check out our premium collagen powder product range here
Written by Hannah Cross, Content Collaborator, Nutraviva