Nourishing Bone Broth – Jam Jar Style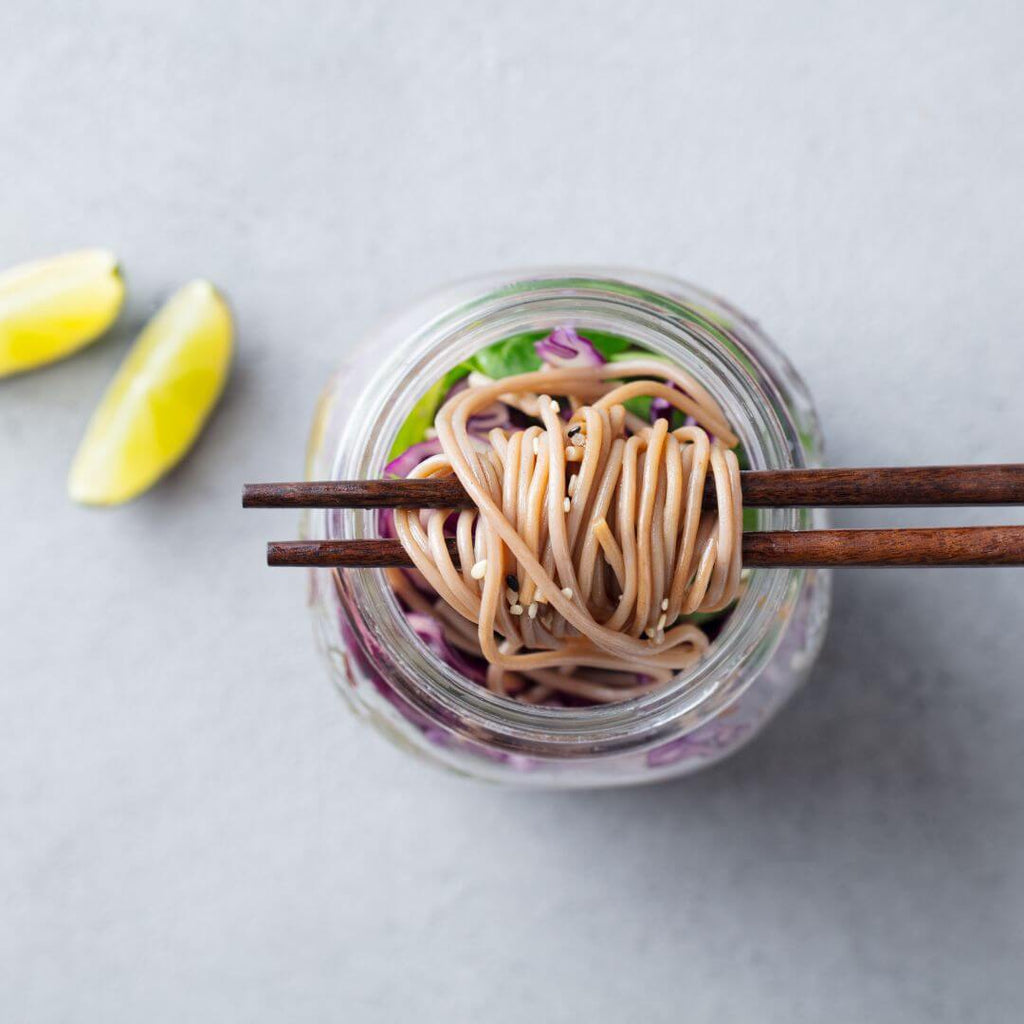 Nourishing Bone Broth – Jam Jar Style
Getting in a healthy and varied lunch in our busy days can be a challenge at times. This recipe is the perfect way to get a quick and healthy lunch, plus adding a nutrient dense boost.
Bone broth is a naturally rich source of collagen, vitamins and minerals making bone broth ideal for supporting immunity, reducing inflammation, and supporting gut health.
The combinations you choose are only limited by your imagination. Start with a simple combination and then go from there. Swap in different flavours in our range according to the taste or preference.
Preparation time: It is so easy to prepare this in a jar the day before. Depending on what you choose to include it will take less than10 minutes to bring altogether.
The cook time approx 2 minutes. If you choose to add a protein source (eg. Tofu or precooked thin beef strips) add another minute to allow the protein to be warmed through.
Simple Jam Jar Broth
Ingredients
1 serve of Nutraviva Bone Broth
1 serve of rice vermicelli, bean vermicelli or vegetable noodles
Thinly sliced vegetables (carrot, cabbage, red onion)
Herbs of choice – they can be either dried or fresh
Optional – serve of thinly sliced precooked beef or tofu
Method:
Get a jam jar with a volume of at least 400ml. A small thermos may also be a good option if preferred.
The idea is to layer the ingredients into the jam jar so that all you need to do is add hot water when ready for lunch.
Add a serve of veges noodles (such as spiralised zucchini or sweet potato), noodles or pre-cooked pasta to the jar. If using dry noodles, it is best to go for a thin rice or bean vermicelli. If you are choosing to add pasta, precook the pasta first and allow to cool before adding to jam jar. If you want a thinker noodle, again pre-cook, or add fresh. This recipe will work equally well for gluten free noodles and pastas.
Very thinly slice or small dice vegetables or herbs of choice. You can also use a vegetable peeler to make ribbons from root veges like carrots.
If you are choosing to add protein, make sure it is cooked first or use a tofu or similar plant protein. This recipe works well for using up any leftovers from dinner.
Add a serve of Nutraviva bone broth powder
The pre-prepared jam jars broth mixes can be prepared in advance and can be kept in the fridge for up to 3 days.
At Nutraviva we use a proprietary slow simmering process to extract natural flavour, amino acids, collagen, chondroitin sulphate, hyaluronic acid, magnesium, and other minerals from the bones of Australian and New Zealand grass-fed and pasture raised cattle.
Nutraviva Bone Broth is put through a low-temperature freeze-drying process to lock in flavours and maintain the rich golden natural colour expected of high-quality bone broth.
Check out and follow our  Instagram,  Facebook and Pinterest for more! We love seeing your delicious creations and foodie feed, so tag us in your social media stories and posts!
Find more of our delicious recipes here.
Find out more about our grass fed and pasture raised Nutraviva Bone Broth powders here