Super Simple Pho Broth Recipe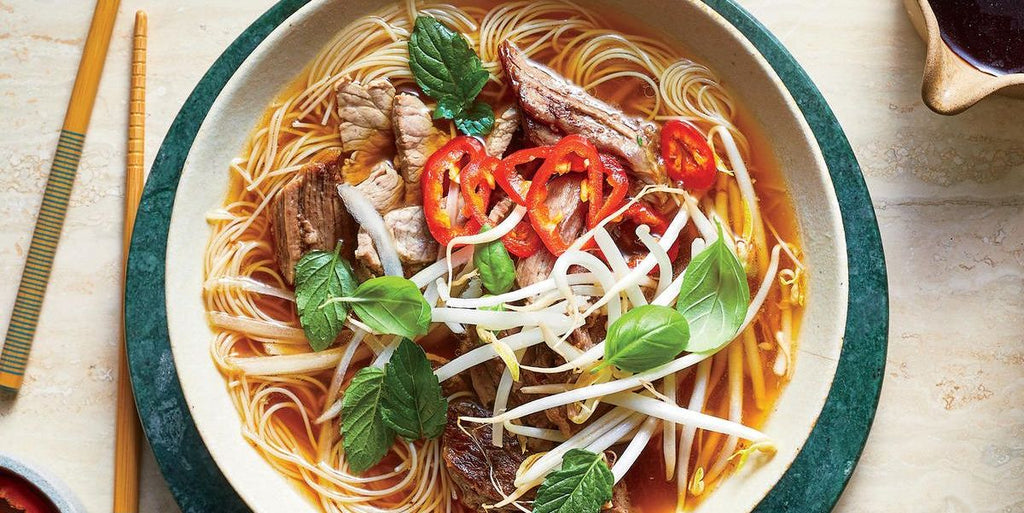 Prep Time: 10 minutes
Cook Time: 30 minutes
Serves: 4
Make a healthy Vietnamese pho broth at home using our Nutraviva Original Beef Bone Broth. This simple recipe supports gut health and can also help to support the immune system. Add your favourite vegetables, protein of choice and herbs for a delicious and nutritious pho. 
Ingredients
Pho Broth
6 cups water
3-4 tbsp Nutraviva Original Beef Bone Broth powder.
2 onions peeled and sliced
4-5 whole carrots chopped up
3-4 cloves of garlic peeled and smashed
1 cinnamon stick
1 tsp coriander seeds
¼ tsp black peppercorns
1 tsp caster sugar
3 star anise
 Toppings
3 shallots, sliced
200g rice noodles, or egg noodles
1 lemongrass stalk, chopped
2 cm piece ginger sliced
1 tbsp fish sauce
300g beef thinly sliced, pork or chicken, or firm tofu chopped into cubes
fresh chilli
a few mint or basil leaves
bean sprouts
Method
In a large stock pot, add in the water, Nutraviva Original Beef Bone Broth, onion, carrots, garlic cloves, cinnamon sticks, coriander seeds, black peppercorns, caster sugar and star anise.
Bring the broth to a boil over medium-high heat. Reduce heat to medium-low and let broth simmer for 30 minutes.
Strain the broth and discard the solids. Return the broth to the stove to keep warm.
Cook the rice noodles per packet instructions and keep aside.
If using meat, pan fry and set aside
In soup bowls, prepare each serving by adding noodles to the bottom and some of the broth. 
Top each bowl with desired amount of toppings, including protein, and enjoy.
Written by Bruno Rossitt, Founding CEO Nutraviva, BEd(PhysEd)