Sugar-free Vanilla Marshmallows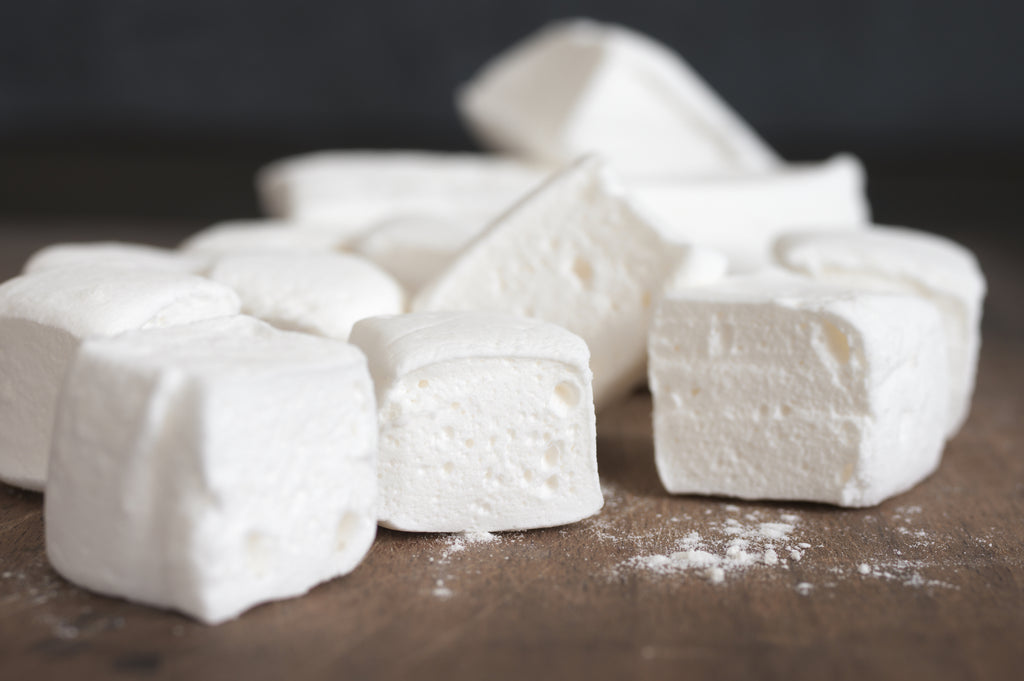 Sugar-free Vanilla Marshmallows (gluten-free, paleo)
Ingredients
1 cup

 

water

3/4 tsp

 

liquid stevia

3 tablespoon

s of grass-fed gelatin

1 teaspoon

 

vanilla extract

1/4

–

1/2

 

teaspoon vanilla bean (optional we used it for the little specs of vanilla bean in marshmallows)
Method
Place the 3 tbsp of

gelatin

into the bowl of a stand mixer along with 1/2 cup water.

Mix together. Let sit for 5-10 minutes.
Have the whisk attachment standing by. **you could use a hand mixer for this
Next step you can do in a small saucepan. Heat up 1/2 cup water over medium high heat or heat up the 1/2 cup water in the microwave. Basically you are looking for just about boiling water.
Begin to heat the water. Once the water reaches just about boiling temperature immediately remove from the heat.
Turn the mixer on low speed and, while running, slowly pour the hot water down the side of the bowl into the gelatin mixture.
Once you have added all of the water, add in vanilla extract and vanilla bean powder and liquid stevia and increase the speed to medium-high.
Beat at medium-high for 1-2 minutes then increase speed to high.
Continue to whip until the mixture becomes slightly thick, approximately 8-10 minutes.
While the mixture is whipping prepare the pans as follows.
We used a bread loaf pan. You can use anything you like. Lightly grease your pan with some coconut oil (which is what we do). You could put down wax paper instead if you wanted.
Once your marshmallow mixture is starting to look like it has some body to it (almost forming peaks), pour the mixture into the prepared pan, using a spatula for spreading.
Allow the marshmallows to sit uncovered for a few hours.
Once marshmallows have set for a few hours you can start to cut into desired shapes using a sharp knife.
Store in an airtight container.
We store our sugar-free marshmallows in the refrigerator.
Written by Ange Cola, Content Collaborator, Nutraviva