Lamington Protein Balls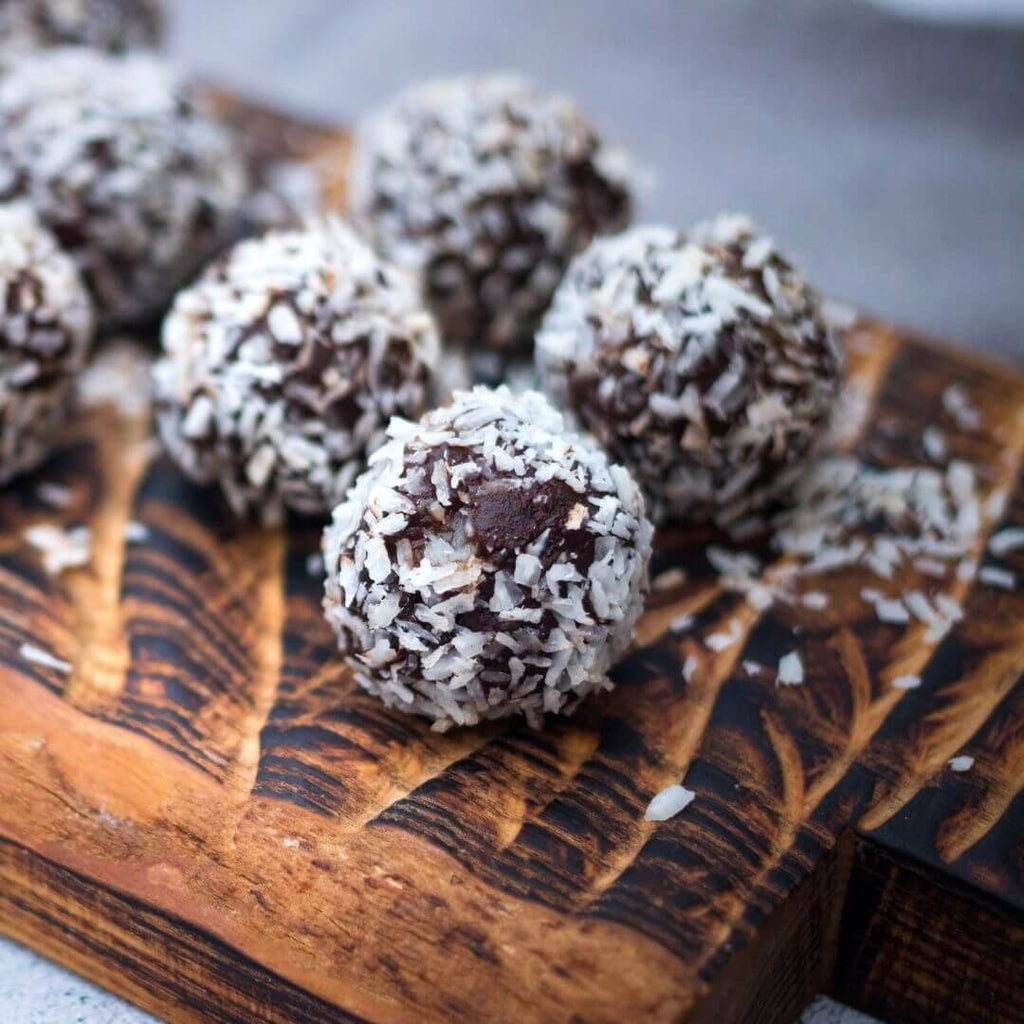 Lamington Protein Balls
Lamingtons are such a delicious Aussie treat. Our reworked version reduces the sugar of the original recipe and ups the protein density, making it a great alternative for those of us with sweet tooths.
Perfect for sharing with friends and as a nutritious energy boost post-workout. You can even try making them berry filled by adding a small amount of berry & chia collagen jam to the centre.
Prefer to use Vegan Collagen Alternative? No worries at all just substitute this powder instead of collagen and add approximately 2 tablespoons of water to get the right consistency.
Preparation time: 30 minutes
Makes 20 serves, depending on the preferred size of the balls when you roll the mixture.
Equipment note: You will need a food processor for this recipe.
Ingredients
1 cup toasted coconut (3/4 for mixture, ¼ for coating of the energy bites)
1 cup coarsely chopped cashews
2 Tbsp water
5 pitted dates
2 Tbsp of stevia
2 serves of Nutraviva Collagen Hydrolysate powder
80g of dark chocolate block to melt (choose a high cocoa percentage chocolate, at least 80%works best). A vegan chocolate block can easily be used instead.
Method
Soak dates in boiling water for 5 minutes until it softens.
Add cashew nuts and ½ cup of the coconut into a food processor and pulse until ingredients become nicely chopped but not into a paste.
Add the dates, stevia and collagen powder into the mixture and blend in the processor until it begins to clump.
Add water to the mixture to help bind it together.
Roll the mixture into 1-inch balls.
Break the chocolate into squares and then melt gently in a small bowl in the microwave.
Dip the balls into the melted chocolate one by one. Using a skewer works well to reduce mess.
Once coated in chocolate roll with remaining ¼ cup of dried coconut and place in refrigerator to set for 30minutes.
Store these energy bites in the refrigerator to set for 30 minutes.
These protein balls can last up to a week in an airtight container in the refrigerator. But trust me, they won't last that long!
Check out and follow our  Instagram,  Facebook and Pinterest for more!
We love seeing your delicious creations and foodie feed, so tag us in your social media stories and posts.
Find more of our delicious recipes here.
Check out our premium collagen powder product range here